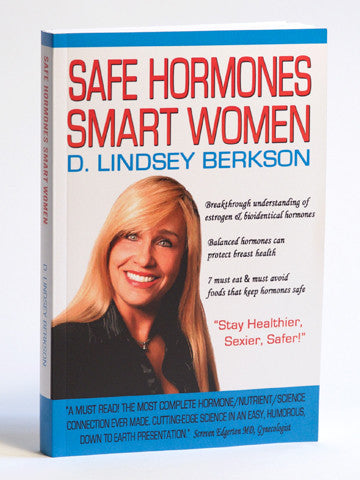 Safe Hormones, Smart Women
Safe Hormones, Smart Women
Balanced hormones are critical for vibrant health. This applies both to your own hormones or those prescribed. Science is now saying it's safe to take hormones for some women. For some women it's safer to take hormones, even for a few years, than to not to take them at all. For the first time find out how balanced hormones can decrease the risk of heart disease, diabetes, being overweight, getting hospitalized, getting wrinkled, low sex drive, insomnia, exhaustion, even safeguard breasts. Learn about the protective side of estrogen & the dangerous side of folic acid. About the environment and progesterone resistance. Learn the safety of soy before or after a diagnosis of breast cancer. Hear about sedentary versus athletically fit food. Which 7 foods you must eat to keep hormones safe, and which 7 you must avoid. Learn which nutrients keep hormones safe and which ones put us more at risk of disease. This is an entertaining page turning book on the science behind hormones and foods. Learn about the truth about soy and breasts, how melatonin and vitamin D are estrogen's good buddy and how women's bodies yearn and synergize with fish oil. Discover a new understanding of estrogen and how it can make anti-cancer substances in your body if you eat right and take the optimal supplements at the appropriate times. Learn about the good estrogen dominance. Laugh and learn at the same time with Lindsey, a scholar at a science driven think tank on estrogens, a nutritionist, and a breast cancer survivor.
Meet D Lindsey Berkson
Berkson is a scholar at a world-renowned science driven think tank at Tulane and Xavier Universities. This is her 4th book on hormones. She is an educator, practitioner, certified nutritionist, has a master's in nutrition-formulated the 1st line of women's natural hormonal alternative products for doctors to prescribe in their practices; a woman's health advocate especially for breast cancer-and has been studying, writing, connecting-the-dots, on hormones and nutrition for 30 years. She had her own nutrition talk show in the San Francisco Bay Area, has lectured for Physicians' for Social Responsibility, and has trained physicians all over the world in the metabolism of estrogen and how to use nutrition to keep hormones safe. She is known for meticulous research combined with a gentle entertaining style.
Paperback
324 pages
Publisher
CreateSpace Independent Publishing Platform (June 10, 2010)
Language
English
ISBN-10
1453612076
ISBN-13
978-1453612071
Product Dimensions
6 x 0.7 x 9 inches
---
We Also Recommend