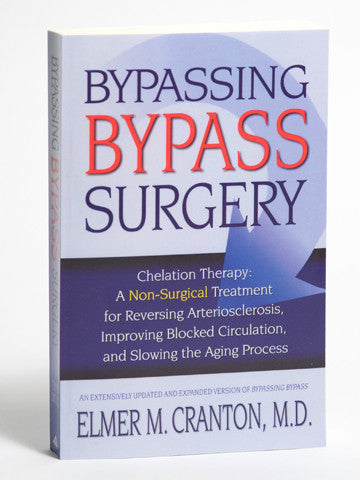 Bypassing Bypass Surgery
Bypassing Bypass Surgery
Chelation Therapy: A Non-surgical Treatment for Reversing Arteriosclerosis, Improving Blocked Circulation, and Slowing the Aging Process
More than one million Americans undergo heart bypass surgery and balloon angioplasty every year at a cost of fifty billion dollars. But there is a simple, nonsurgical method to open clogged arteries that is administered in the doctor's office. Chelation therapy works in all the arteries at once, it's much safer, and is much less expensive.
Meet Elmer M. Cranton
Dr. Cranton graduated from Harvard Medical School in 1964. He has served as president of Smyth County Medical Society, Virginia, and was Chief-of-Staff at a U.S. Public Health Service Hospital in Oklahoma. He is a Charter Fellow and Life Member of the American Academy of Family Physicians; and a Fellow and past president of the American College for Advancement in Medicine. Dr. Cranton was board certified and recertified as a Diplomate of the American Board of Family Medicine. He served for many years as Editor-in-Chief of both the Journal of Advancement in Medicine, and the Journal of Holistic Medicine. He is a past president of the American Holistic Medical Association. He has authored a number of books and scientific papers, some of which are listed below. Dr. Cranton retired in 2007, after more than 40 years of clinical practice.
Paperback
416 pages
Publisher
Hampton Roads Publishing; 1 edition (August 1, 2001)
Language
English
ISBN-10
1571742972
ISBN-13
978-1571742971
Product Dimensions
5.5 x 1.1 x 8.6 inches
---
We Also Recommend