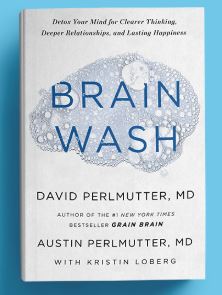 Brain Wash: Detox Your Mind for Clearer Thinking, Deeper Relationships, and Lasting Happiness
Brain Wash: Detox Your Mind for Clearer Thinking, Deeper
Relationships, and Lasting Happiness
Dr. David Perlmutter, #1 New York Times bestselling author of Grain Brain, and Dr. Austin Perlmutter, his son, explore how modern culture threatens to rewire our brains and damage our health, offering a practical plan for healing.
Contemporary life provides us with infinite opportunities, along with endless temptations. We can eat whatever we want, whenever we want. We can immerse ourselves in the vast, enticing world of digital media. We can buy goods and services for rapid delivery with our fingertips or voice commands. But living in this 24/7 hyper-reality poses serious risks to our physical and mental states, our connections to others, and even to the world at large.
Brain Wash builds from a simple premise: Our brains are being gravely manipulated, resulting in behaviors that leave us more lonely, anxious, depressed, distrustful, illness-prone, and overweight than ever before.
Based on the latest science, the book identifies the mental hijacking that undermines each and every one of us, and presents the tools necessary to think more clearly, make better decisions, strengthen bonds with others, and develop healthier habits. Featuring a 10-day bootcamp program, including a meal plan and 40 delicious original recipes, Brain Wash is the key to cultivating a more purposeful and fulfilling life.
Meet Austin Perlmutter, M.D.
Austin Perlmutter, M.D., is a board-certified internal medicine physician and New York Times bestselling author. He received his medical degree from the University of Miami and completed his internal medicine residency at Oregon Health and Science University in Portland Oregon. His focus is in helping others to improve decision-making and quality of life. He is also interested in methods of understanding and reducing burnout in the medical field. He is the co-author of Brain Wash. He writes for Psychology Today on his blog, The Modern Brain.
Dr. Perlmutter is a Board-Certified Neurologist and five-time New York Times bestselling author. He serves on the Board of Directors and is a Fellow of the American College of Nutrition.
Dr. Perlmutter received his M.D. degree from the University of Miami School of Medicine where he was awarded the Leonard G. Rowntree Research Award. He serves as a member of the Editorial Board for the Journal of Alzheimer's Disease and has published extensively in peer-reviewed scientific journals including Archives of Neurology, Neurosurgery, and The Journal of Applied Nutrition. In addition, he is a frequent lecturer at symposia sponsored by institutions such as the World Bank and IMF, Columbia University, Scripps Institute, New York University, and Harvard University, and serves as an Associate Professor at the University of Miami Miller School of Medicine.
His books have been published in 36 languages and include the #1 New York Times bestseller Grain Brain, The Surprising Truth About Wheat, Carbs and Sugar, with over 1 million copies in print. Other New York Times bestsellers include Brain Maker, The Grain Brain Cookbook, The Grain Brain Whole Life Plan, and Brain Wash, co-written with Austin Perlmutter, MD. He is the editor of The Microbiome and the Brain authored by top experts in the field and published in December 2019 by CRC Press. Dr. Perlmutter has been interviewed on many nationally syndicated television programs including 20/20, Larry King Live, CNN, Fox News, Fox and Friends, The Today Show, Oprah, The Dr. Oz Show,The CBS Early Show, and CBS This Morning.
Dr. Perlmutter is also the recipient of numerous awards, including: the Linus Pauling Award for his innovative approaches to neurological disorders; the National Nutritional Foods Association Clinician of the Year Award, the Humanitarian of the Year Award from the American College of Nutrition, and most recently the 2019 Global Leadership Award from the Integrative Healthcare Symposium.
Hardcover
304 pages
Publisher
Published January 14th 2020 by Little, Brown Spark
Language
English
ISBN
0316453323
ISBN13
9780316453325
Product Dimensions
6.2 x 1 x 9.5 inches
---
We Also Recommend