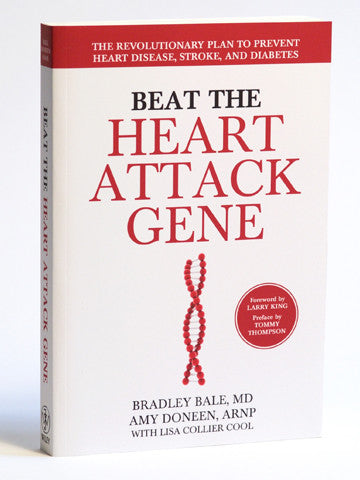 Beat the Heart Attack Gene
Beat the Heart Attack Gene
The Revolutionary Plan to Prevent Heart Disease, Stroke, and Diabetes
A revolutionary, personalized guide to preventing heart disease based on genetic factors
Heart disease is the #1 cause of death in America. It affects 81 million Americans and is the culprit in one of every two deaths in the United States. Most people think that they are not at risk of a heart attack if they control their cholesterol and blood pressure, but they aren't aware of other major risk factors. The good news is that with the right information and strategies, heart attacks are preventable—even if heart disease runs in the family.
In Beat the Heart Attack Gene, world-renowned cardiovascular specialists Bradley Bale, MD and Amy Doneen, ARNP, present a new model for understanding and preventing heart disease. They explain the three different genetic types of cholesterol profiles and tailor treatments for each type, using their cutting-edge Bale/Doneen Method, a simple, comprehensive prevention plan that detects cardiovascular disease (CVD) at early stages. Beat the Heart Attack Gene includes easy quizzes and self-tests that show how to determine cholesterol genotype as well as advice for how to apply that knowledge through nutritional and lifestyle changes. For heart attack and stroke survivors, the Bale/Doneen Method also helps prevent recurrences by identifying and treating what's triggering the patient's disease—a crucial step that many cardiologists neglect.
With their proven method utilized by healthcare professionals worldwide, Bale and Doneen empower readers by alerting them to potential health threats, and then offer personalized, evidence-based strategies so they can live healthy, active lives without fear of heart attack or stroke. Specifically, Beat the Heart Attack Gene addresses:
The hidden cause of most heart attacks
Early prevention methods
The dangerous cholesterol most doctors don't check
Major red flags for heart attack and stroke risk, including gum disease
The gene that increases cardiovascular risk as much as smoking
The best and worst supplements for your heart
10 surprising ways to prevent heart attacks
Meet Bradley Bale
Dr. Bradley Bale is one of the nation's leading specialists in preventing heart attacks, stroke and diabetes. Since 2002, he's given more than 600 speeches and presentations to medical groups in the US and abroad, including the American Heart Association, Berkeley HeartLab and European Atherosclerosis Society. His media interviews include The Huckabee Show, Fox TV, ABC TV, The Wall Street Journal and ESPN, which recently reported on how Dr. Bale screened coaches, scouts and former players from Seattle Seahawks football team for cardiovascular disease (CVD), using a state-of-the-art ultrasound test. He has also served as a medical expert on the Larry King Cardiac Foundation's program on sudden cardiac death, honoring the late Tim Russert.
Dr. Bale is medical director of the Heart Health Program at Grace Clinic in Lubbock, Texas and cofounder of the Bale/Doneen Method international preceptorship program, an accredited continuing medical education (CME) course teaching health care providers advanced techniques to detect—and reverse—CVD before the patient suffers a heart attack or stroke. Hundreds of MDs have completed the training, some of whom subsequently opened their own prevention clinics, hailing the course "an incredible resource…the future of medicine," "the best, by far, educational program I have ever attended," and "the education of a lifetime…the only totally comprehensive program in the world for the prevention of this disease."
For more than 30 years, Dr. Bale maintained one of the largest primary care practices in Spokane, Washington, where he cofounded the Heart Attack Prevention Clinic with Amy Doneen, MSN, ARNP in 2003—one of the first such facilities in the US. (It's now called the Heart Attack & Stroke Prevention Center). Convinced that standard methods of cardiac care weren't doing enough to identify early stages of CVD and avert recurrences in heart attack and stroke survivors, he cofounded the Bale/Doneen Method of personalized risk assessment and disease management in 2001. Of the 3,500 patients he's treated with the method—including many physicians with CVD—only one had a heart attack, from which the patient made a full recovery. None of them suffered strokes.
A sought-after speaker and educator, Dr. Bale is co-chair of Berkeley Heartlab's national five-hour CVD prevention course, which he will present in 18 cities from coast to coast this year. He made a similar tour last year, and in 2008, he lectured in 20 cities as co-chair of a national CME program on lipids and CVD. Dr. Bale has presented study abstracts at the 2009 American Heart Association meeting, the 2009 International Atherosclerosis Society meeting, the 2007 European Atherosclerosis Society Meeting, the 2005 American Heart Association conference on Arteriosclerosis, Thrombosis and Vascular Biology, and many others.
His research on CVD prevention has been published in such respected medical journals as the American Heart Association's Circulation, Atherosclerosis, the official journal of the European Atherosclerosis Society, Post Graduate Medicine, Journal of National Medical Association, Journal of Clinical Lipidology, Physician's Weekly, and Journal of Clinical Lipidology, ADVANCE for Administrators of the Laboratory and ADVANCE for Healthy Aging. He has also served as a reviewer for American Journal of Cardiology, a consultant to deCODE Genetics and Cleveland HeartLab, and is on the speakers' bureaus for Takeda, diaDexus and Berkeley HeartLab.
Dr. Bale is a clinical assistant professor, School of Medicine, Texas Tech Health Sciences Center and an adjunct professor at Texas Tech's School of Nursing. He received his Doctor of Medicine degree from University of Kentucky and his Bachelor of Arts in biochemistry from Lawrence University. He was board-certified in family medicine in 1978 and is a member of American Heart Association, American Stroke Association, American Diabetes Association, American Lipid Association, Council on Arteriosclerosis, Thrombosis and Vascular Biology, Society of Atherosclerosis Imaging and Prevention and other medical societies. He has participated in numerous Grand Round and CME presentations and spoken at many major medical conferences.
Paperback
340 pages
Publisher
Wiley; 1 edition (February 4, 2014)
Language
English
ISBN-10
1681620227
ISBN-13
978-1681620220
Product Dimensions
6 x 0.8 x 9 inches
---
We Also Recommend