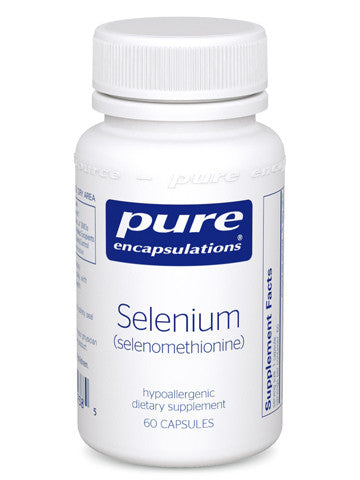 Selenium (selenomethionine)
Selenium (selenomethionine)
Antioxidant for immune system support*
Selenium is an antioxidant that protects normal cell function and provides support for the immune system.*
Available in 60 capsules
Disclaimer
Directions
1 capsule daily, with a meal, or as directed by a health professional.
Storage
Keep closed in a cool, dry place out of reach of children.
Applications
Supports healthy cell function and immune health*
Promotes healthy blood flow*
Made with hypoallergenic, vegan ingredients
Disclaimer
*The statements below have not been evaluated by the Food and Drug Administration. This product is not intended to diagnose, treat, cure, or prevent any disease.
Discussion
Antioxidant for immune system support* Selenium is a natural antioxidant that delays the oxidation of polyunsaturated fatty acids and preserves the elasticity of tissue. Selenium is required for the production of certain prostaglandins, which promote healthy blood flow. In synergy with vitamin E, selenium promotes healthy growth and fertility, and improves the function of certain energy producing cells. Selenium also provides support for the immune system.* Selenium protects normal cell function by supporting the body's natural defenses and scavenging harmful free radicals.*
---
We Also Recommend